Stop&Charge ROUND
& ANGULAR
Portable wireless charging tables for mobile phones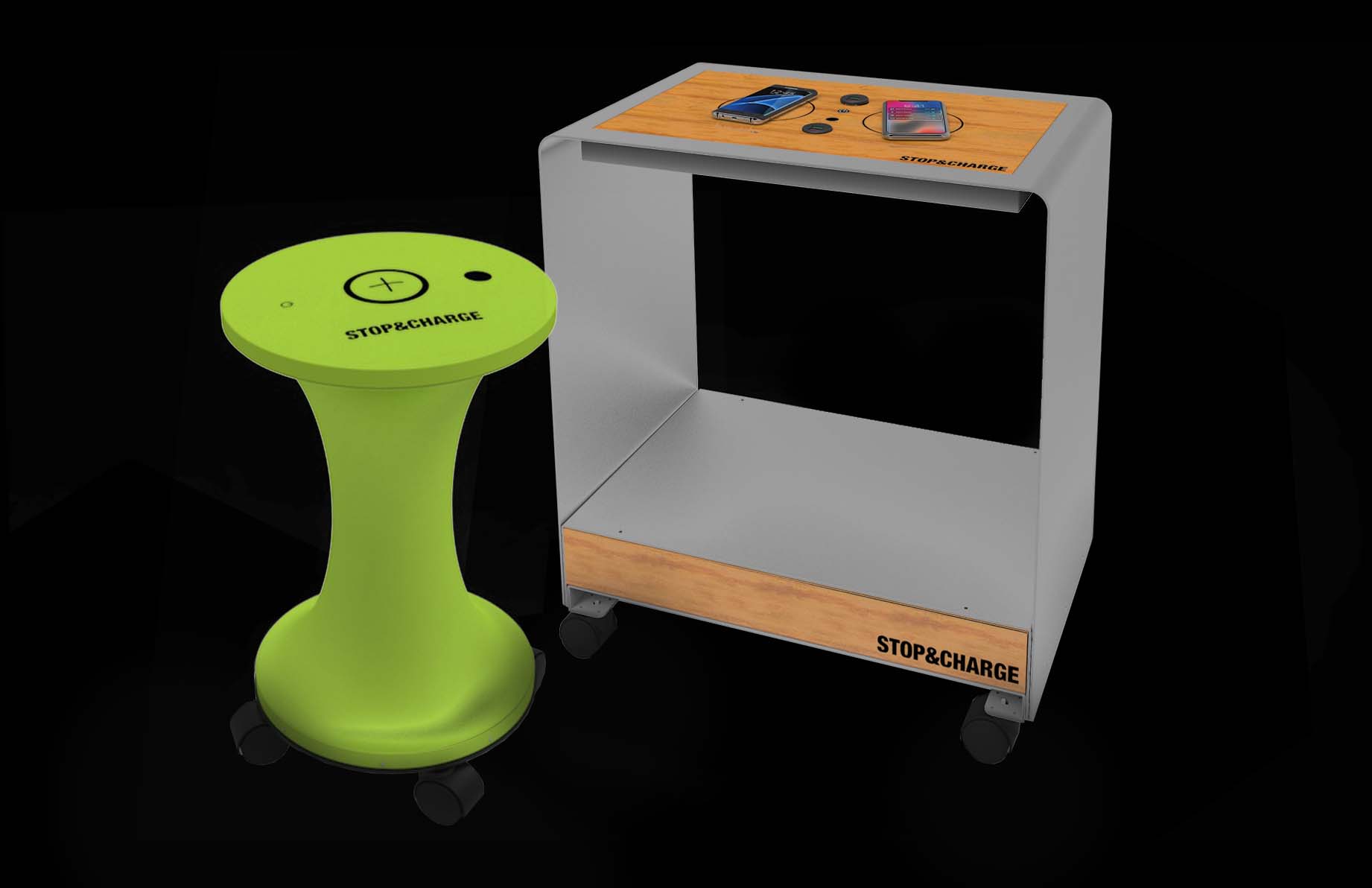 ROUND and ANGULAR:
portable wireless charging tables for mobile phones
Stop & Charge ROUND and ANGULAR are two models of portable, wireless smartphone charging tables, equipped with the latest fast charging standards, both in wireless mode (Qi standard fast charge) and through USB ports (Qualcomm QuickCharge 3.0).
With a polished design, they are built to order in Italy with high quality European components and integrate our in-house developed remote control technology.
ROUND is the wireless smartphone charging table in 14 different colors, designed with a young and fresh design specifically for waiting rooms, clubs, shops, bars and restaurants. ANGULAR is the wireless mobile phone charging table in aluminum and wood, with a more sober and elegant design, designed for the office and professional spaces.
ROUND, the eye-catcher charger for commercial activities
Customers of hotels, bars, restaurants and other businesses, always frantically searching for power sockets, will greatly appreciate the service offered by ROUND, which also fulfill the need for tabletop charger, with the advantage of being portable and also an attractive piece of furniture, customizable in the choice of color and with the logo of your business. ROUND will ensure fewer distractions and less responsibility for staff, more safety thanks to the absence of wires. This will ultimately translate into more positive reviews.
It is the only completely portable and wireless mobile charging table on the market, it has an uncluttered user interface with touch buttons and colored light effects with RGB LEDs. Like all our products, it is equipped with the patented GaraGeeks remote monitoring system that enables large venues to manage a large number of units.
ROUND in short:
ZERO wires

3 devices rechargeable at the same time

14 colors available
Order now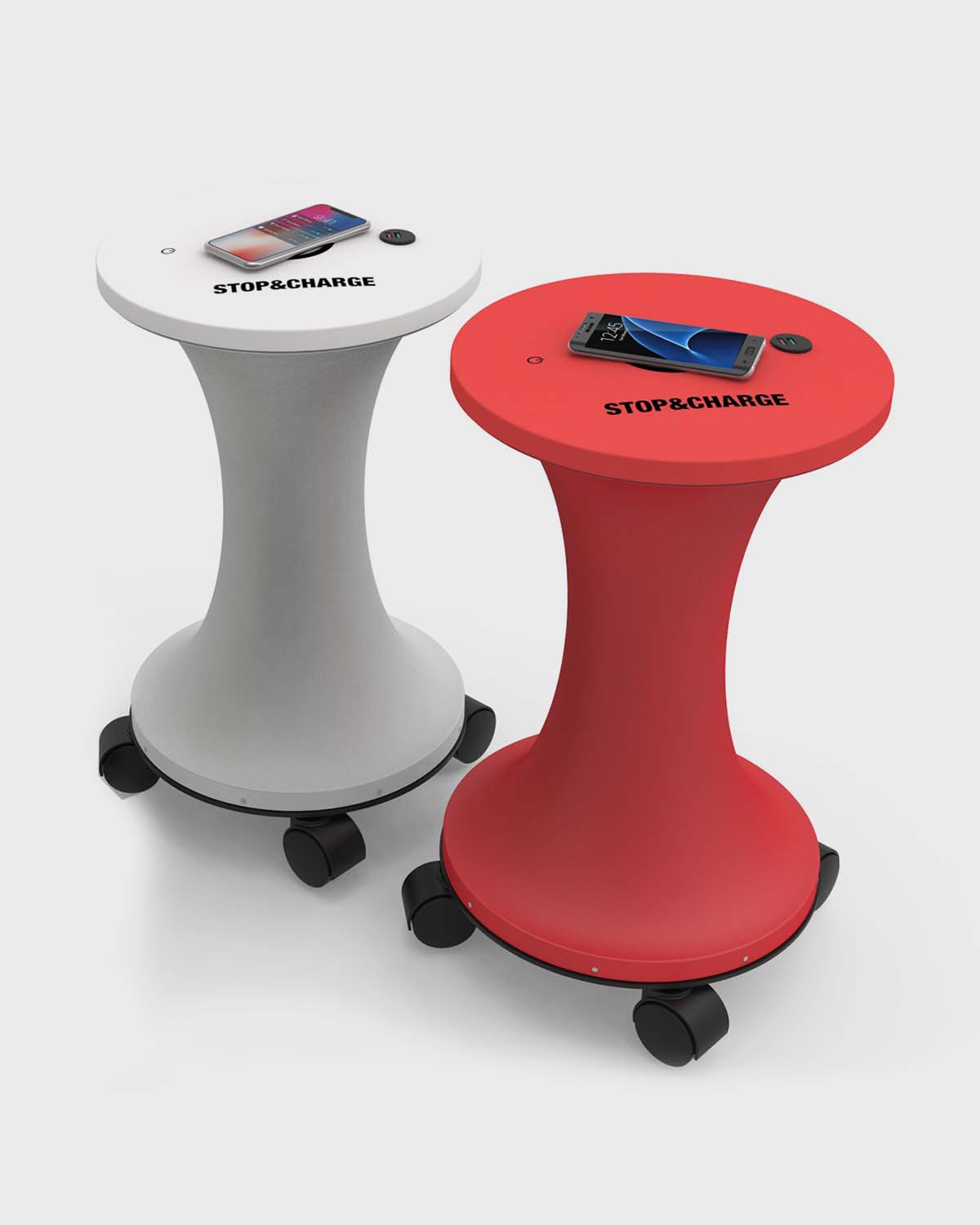 ANGULAR, the wireless charging table for the office
ANGULAR is the mobile charging table ideal for the office, meeting rooms and professional use, indoors and outdoors, thanks to its sturdy structure. In addition, the mobile station for recharging cell phones has also been designed for prestigious environments such as reception, hotel lobbies, meeting rooms, conferences, luxury clubs, yachts.
The coffee table is made entirely in Italy, has a structure made of aerospace aluminum and iroko wood, that gives a premium. It has USB sockets and wireless connections to charge up to six devices at the same time.
ANGULAR in short:
6 devices rechargeable at the same time

10 parameters transmitted in real time via Wi-Fi


350Wh the energy stored in the internal batteries
Order now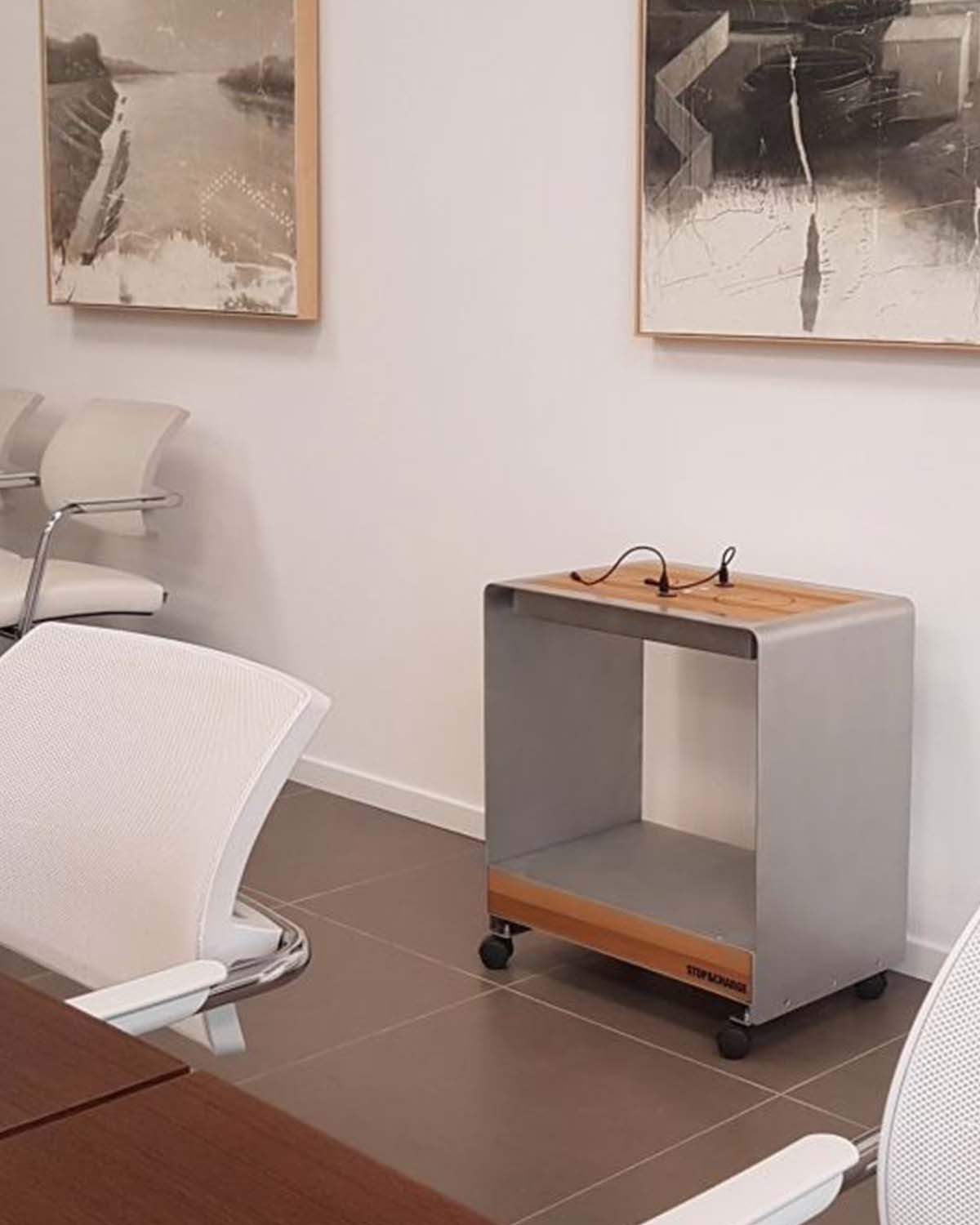 The GaraGeeks ROUND and ANGULAR smartphone charging tables are innovative products that allow remote monitoring.
In particular both products:
have an integrated rechargeable battery that allows you to fully recharge up to 40 smartphones, after which it can be recharged with the supplied charger;

support the Qualcomm QuickCharge 3.0 USB cable charging standard and Qi standard wireless fast charging and is compatible with the latest iPhones;

are equipped with a simple and attractive user interface, with capacitive touch buttons and elegant lighting effects with RGB LEDs;

integrate a 32-bit microcontroller with Wi-Fi interface, protection fuse, sealed AGM batteries from European manufacturers for maximum safety;

offer an integrated web interface to change settings, check the battery charge status and know how many charges have been delivered.
From the remote control system implemented on a widespread open-source platform it is possible to monitor dozens of charging points at the same time, obtain automatic alarms in case of anomalies, study the historical trend of the use of each single public charging point and automatically deactivate the feeding at certain times.
Would you like more information on GaraGeeks Round and Angular mobile phone charging tables?