Connected smartphone charging bench for the Smart City. Fully solar powered, LED backlighting, Wi-Fi hotspot, large advertising space.
Features
1
Modulo fotovoltaico 100W
monocristallino Made in Italy
2
2 moduli USB con 2 porte ciascuno e 2 caricatori wireless Qi.
Per un totale di 6 dispositivi ricaricabili contemporaneamente.
3
Superficie decorabile
4
Hotspot Wi-Fi basato su router 4G professionale e piattaforma cloud
5
Possibilità di alimentazione da rete elettrica 230V con alimentatore
IP67 certificato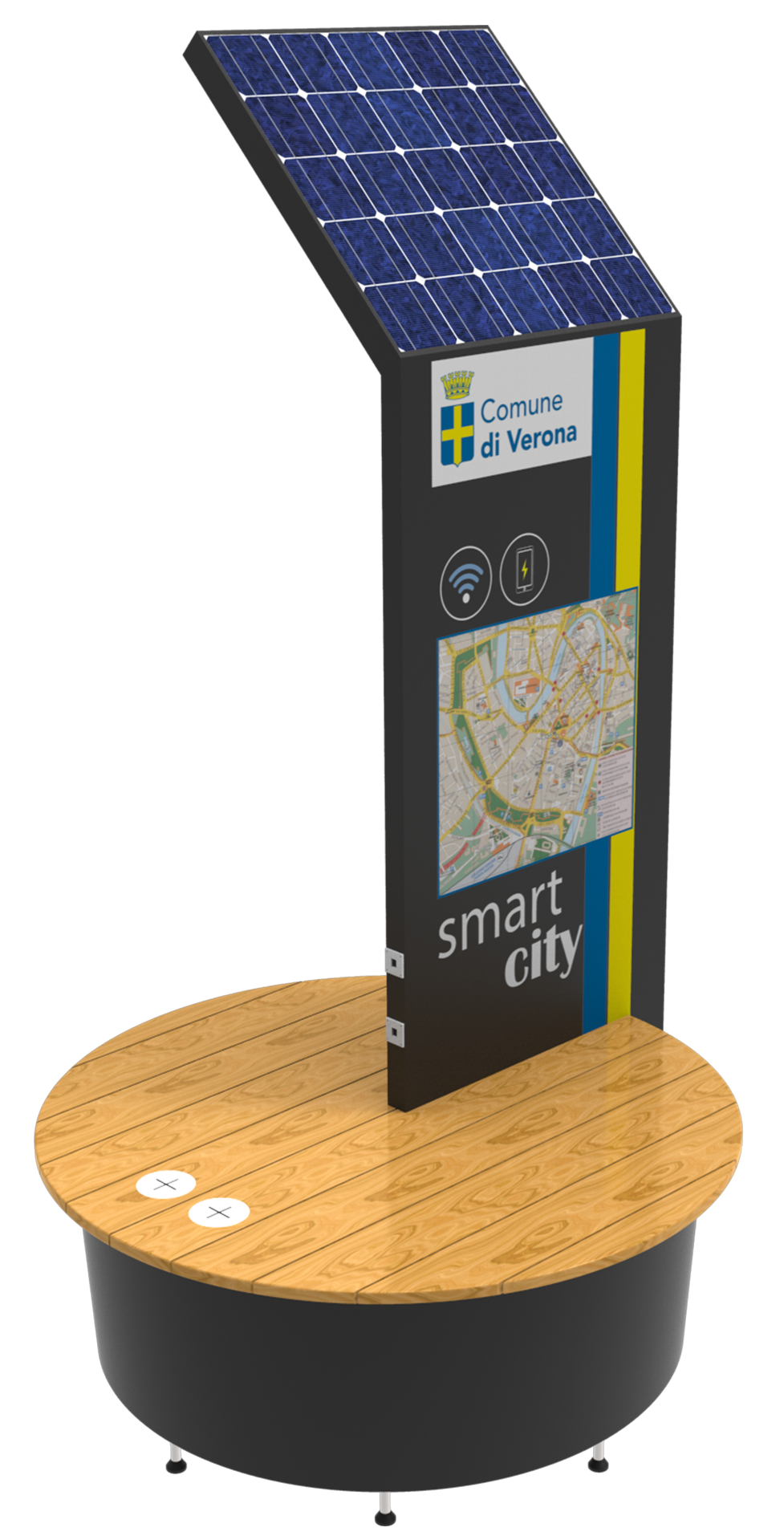 Bench: the intelligent bench for the Smart City
Stop & Charge SMART BENCH is the smart solar powered bench that combines a comfortable seating and charging ports for your smartphone. The bench can be installed in private outdoor spaces such as those of shopping centers and shops or public spaces such as squares, parks, schools, universities, hospitals.
A city cannot be called truly smart if it is not equipped with multifunctional, innovative and eco-sustainable street furniture elements … just like our SMART BENCH which, without the need for connections to the electricity grid, allows citizens and tourists to relax while enjoying its refined design and charging functions.
What is a hi-tech bench?
With Stop&Charge SMART BENCH, thanks to the 2 integrated wireless charging points with Qi standard and four USB ports, users have 6 charging points available at the same time, compatible with both mobile devices that support wireless charging and those that need wired charging. The solar-powered operation ensures no connection to the electricity grid is required, as it is a fully off-grid photovoltaic system, thus avoiding the need for excavations and wiring.
The bench was born from an innovative idea of GaraGeeks to combine a modern design with a round shape with smart city tech powered by renewable energy. The choice of materials and the entire production chain are 100% made in Italy. In addition, our smart bench features a LED backlight system that is very useful in the dark hours. It does not require any anchoring to the ground, thanks to the adjustable feet, which allow the bench to be simply placed in public spaces.
Contact us
The smart bench as an element of sustainable urban furniture
Stop & Charge SMART BENCH features a vertical panel, where in the upper part hosts photovoltaic modules at an optimal angle, and the lower part is a large area to host information, tourist or commercial communications on both sides. In this way the smart bench designed by GaraGeeks, in addition to offering an innovative street furniture solution, also gives great visibility for any sponsors and advertising agencies.
The bench is ideal for both indoors and outdoors as it is made of durable and weather-resistant materials: for this reason, it requires limited maintenance. In addition to the cell phone charging service, the bench offers a public Wi-Fi hotspot to offer users Internet connectivity, thanks to its integrated industrial 4G router.
Stop & Charge SMART BENCH is equipped with static certification and can be chosen in total safety also to equip the outdoor areas of hospitals, schools, parks and areas for children.
Stop&Charge SMART BENCH opera in corrente continua a bassissima tensione ed è dotata di certificazione statica, per questi motivi può essere scelta in totale sicurezza anche per attrezzare le aree esterne di ospedali, scuole, parchi e le aree destinate ai bambini.
Contact us
Our intelligent SMART BENCH is a practical example of that technological and sustainable turning point that many public administrations (or private companies) are looking for, to demonstrate their ability to keep city centers alive and modern, as well as to offer citizens, tourists and users a service that nowadays is taken for granted.
Through a dashboard, developed by GaraGeeks, it is also possible to obtain various usage data from each bench, which are used to fully understand people's (new) habits and their satisfaction with the innovative installations proposed.
Do you want to take a step forward to make your city smarter? Contact us for more information.