Solar-powered cell phone charging totem for outdoor activities and events; it does not require electrical connections and can be set up in minutes.
Features
1
Pannello solare fotovoltaico da 60W
Celle in silicio policristallino ad alta
efficienza incapsulate in vetro-tedlar
2
Tavolino in plexiglas contenente
elettronica e batterie di accumulo
Personalizzabile su ordinazione
con logo attività e colori differenti
3
Punto di ricarica wireless rapida con standard Qi wireless
e USB fast-charge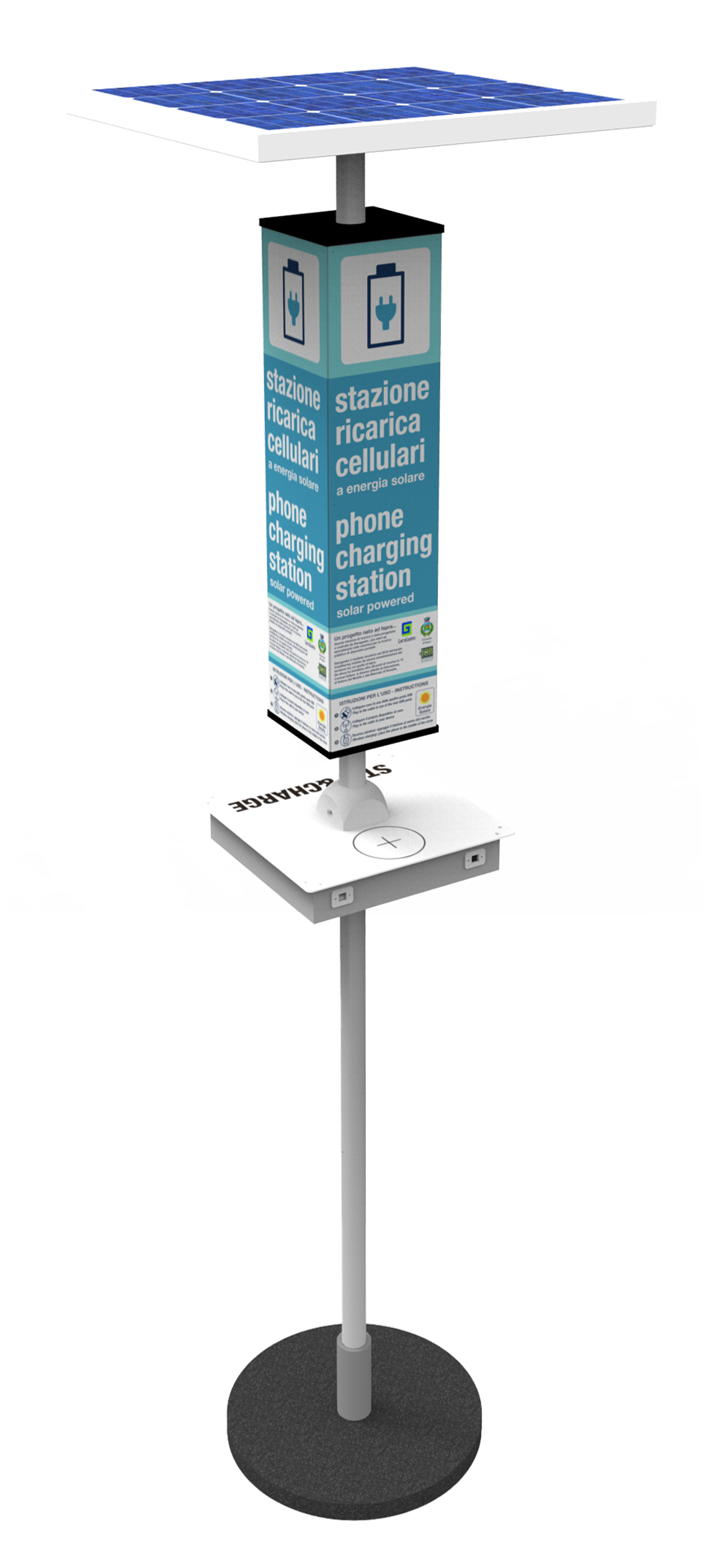 Solar Lite:
the totem for charging mobile phones with solar panels
Stop & Charge SOLAR LITE is the charging totem for portable devices (mobile phones, smartphones, tablets, notebooks, PDAs, mp3 players, GPS receivers) powered 100% by solar energy. Designed for events and hospitality businesses, it is ideal for use in outdoor areas such as dehors, bathing establishments, swimming pools, golf courses, resorts, event spaces and similar structures.
SOLAR LITE offers a service much requested and appreciated by customers and goes beyond cell phone charging stations: it is a real piece of furniture, able to make any space immediately hi-tech and innovative thanks to a light and minimalist design.
The advantages of installing cell phone charging stations for businesses
The battery life of smartphones is often insufficient because battery technology does not improve along with that of microprocessors.
Stop & Charge SOLAR LITE mobile charging totems are ideal for outdoor activities, offering customers the ability to comfortably recharge their smartphone, without forcing them to desperately search for a power outlet and to leave their device in precarious positions.
With SOLAR LITE mobile phone recharging is offered self-service, in a practical and elegant way, avoiding distractions or responsibilities to the staff. The totem offers a service much appreciated by customers and allows easy placement, since it is mounted like an outdoor umbrella. It can also be branded with the logo of the structure.
Much more than just a solar charger
Stop & Charge SOLAR LITE has a structure made in AISI 316L stainless steel, a 60W photovoltaic panel with 150Wh storage, 4 USB ports for wired charging and 1 wireless pad supporting Qi standard with fast charge, compatible with all the latest smartphone models that support wireless charging. In this case, simply place the phone on the SOLAR LITE table for the charging coils inside the device and the charger to connect.
SOLAR LITE is designed to last over time. All the components are made in Italy, of the highest quality, and require very simple maintenance thanks to its "open design", that is the absence of moving parts and receptacles, a fundamental element that differentiates the totems from the classic cabinets for charging mobile phones, which are liable to breakage and damages.

Stop & Charge SOLAR LITE can prove to be an element of street furniture that can make a difference in the case of outdoor events and events, where the problem of recharging your device is very much felt by users. With the solar energy cellular charging totems, your organization will be able to provide a useful and free service to the participants, and also position itself as a "green" reality, attentive to eco-sustainability and innovation, being the structure powered exclusively with renewable energy and built of 100% recyclable materials.

For the squares of small urban centers, as well as parks and outdoor activities in municipal concession, GaraGeeks has designed the Stop & Charge SOLAR LITE CITY version, a more affordable scaled-down version of SOLAR 2.0 charging station. If you want more details, go to the Product Sheet.

Whatever the version of charging station you'll choose, the advanced cloud-based technology developed by GaraGeeks allows remote control of each individual charging point, giving the possibility to activate and deactivate the stations remotely: a very useful function, especially for obtaining monitoring data and avoiding improper use.

This solution is unique in its kind, which is why our SOLAR LITE mobile phone charger stands out from other products on the market.
If you want more information about this product, contact us.